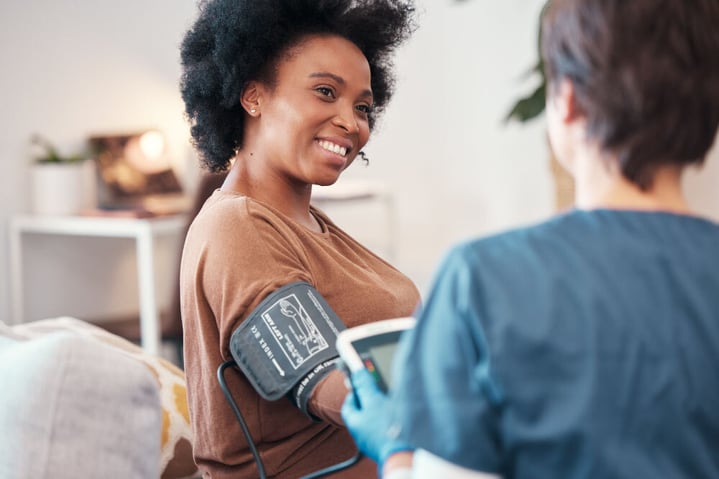 First emerging in the late 1800s, employee health clinics originally served workers who were injured doing jobs that posed a risk for bodily harm, such as railroad work or manufacturing. By receiving care onsite, employees could return to their jobs faster. Although their prevalence fluctuated through the decades, employee health clinics have experienced a significant resurgence during the last 20 years—and it shows no signs of stopping.
Part of this growth is due to the medical community's emphasis on preventive, chronic, and mental healthcare. To improve access to and use of those services, many companies are providing onsite clinics as part of their employee benefits package. In fact, according to the Business Group's 2023 Large Employers' Strategy and Plan Design Survey, 36% of respondents are offering onsite healthcare or near-site care in 2023, with an additional 13% considering doing so in 2024/2025.
Employee

Onsite Healthcare

: A Top Priority for Today's Businesses
Health and wellbeing solutions are much more than trends in employee benefits packages —they make good business sense. Take, for example, the fact that 75% of medical costs accrued by an organization are mostly due to preventable conditions. Once other factors, such as lost productivity due to sick days, poor job performance, turnover, and burnout, are accounted for, the overall cost of unaddressed, preventable illnesses grows considerably. The proximity, consistency, and access of onsite clinics make them a valuable way to combat those cost variables while improving employee health.
In addition to preventive care issues, mental health challenges are impacting today's workplace. Because of a growing need for mental healthcare, opportunities to address mental well-being on the job have become increasingly important to employers and employees. For example:
Providing mental health and wellbeing programs via onsite clinics removes the traditional barriers to these high-demand services. Even with all these benefits, employers will need to evaluate other considerations.
60%
of Gen Z respondents factor in mental
health resources when selecting an employer.
Weighing the Benefits
and Challenges
of
Onsite Care
Is onsite healthcare the right solution for you? Today, it's possible for organizations of all shapes and sizes to support onsite clinics. Evaluating the pros and cons can help determine whether your company is a good fit for this option. According to NAWHC, the benefits of employee health clinics include:
Convenient Access

and More Engagement

.
When healthcare is offered onsite, employees are more likely to take advantage of services they may have otherwise not considered, such as immunizations, preventive screenings, or wellness check-ins. An employee health clinic not only improves proximity to care but also provides consistent access to providers who can track and monitor employees' health over time. Furthermore, reduced time away from work to travel to physicians' offices also increases employee productivity—and not just for physical illnesses.
Reduced Cost of Care per Person.
A 2020 study assessed the utilization and cost of a comprehensive primary care model that incorporated employer-sponsored onsite, near-site, and virtual primary care. The findings showed that employees who sought care within this model had a lower total cost of care per person. Furthermore, the National Safety Council found that companies see a return of $4 for every $1 spent on mental health services.
Improved Employee Retention.
By meeting employees where they are, businesses that provide onsite healthcare demonstrate that they are committed to the well-being of their employees. This can go a long way to attracting and retaining high-quality talent. In addition, the services offered by onsite clinics are tailored to the specific needs of the employee population rather than a one-size-fits-all approach to healthcare, which can be viewed as a significant benefit to new or current hires.
Companies see a return of
$4 for every $1
spent on mental health services
Of course, the potential downsides to employee health clinics must be weighed against their benefits. A few cons that might be considered include:
For smaller organizations, the cost and administrative burden of running an onsite clinic may be too overwhelming without the option of part-time or customized approaches.
Some employees want to ensure that their employer does not have access to their medical records. Although onsite clinicians only share aggregate data—not patient-specific data—this concern must be addressed to ensure employee engagement.
The location of an employee health clinic can impact utilization. Not every organization has the space to host a center within its facility or near the work site. Fortunately, onsite clinic providers like Hamilton Health Box offer mobile clinics that visit worksites on a regularly scheduled basis.
Know

Your Options for Employer Onsite Care
Not only does access to convenient, high-quality healthcare result in healthier and happier employees—it also lowers healthcare spending. At Hamilton Health Box, we pair the best parts of in-person care with tech-enabled virtual medicine. Get a solution that's just right for your company with full- and part-time onsite clinic options. We can walk you through a custom cost-benefit calculation based on the characteristics of your employee population. If this sounds like a good option for your business, book a 1:1 meeting to learn how and discover how Hamilton Health Box can be a crucial wellness driver for you and your employee community. Hamilton Health Box can be a crucial wellness driver for you and your employee community.