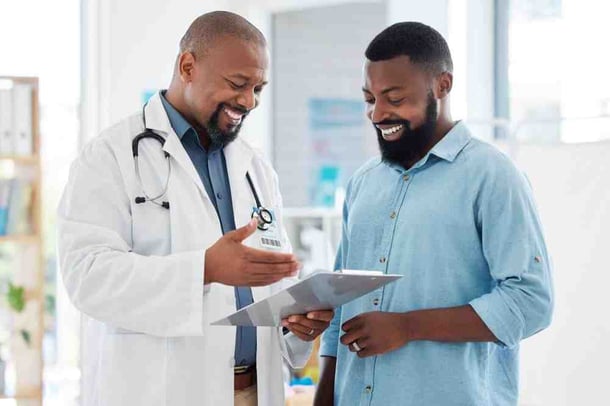 Healthcare remains an expensive benefit for companies. In fact, nearly all respondents to a KKF survey of U.S. employers agreed that the costs for health benefits are excessive.
Simultaneously, workers expect more from their employer-sponsored health plans. For example, a recent article suggests that most people searching for new employment consider differences in offered health benefits when choosing between job offers—a factor that can even outweigh salary gaps.
So how can organizations reduce health benefits expenditures while satisfying evolving workforce priorities?
With recent data showing over 90% of employees with access to onsite clinic services are satisfied with the care they receive, more and more employers are adopting them to address this question. To maximize the benefits of these programs, it's essential to understand how they can work to drive down costs and support workforce wellness.
The Double-Pronged Impact of

Health

and

Wellness Initiatives
Wellness programs—designed to improve health and prevent illness—are key components of primary and chronic care services. They can range in complexity, from annual flu shot offerings to individual health coaching sessions. Some wellness initiatives target patients with chronic conditions, such as individuals experiencing high glucose levels and elevated cholesterol.
Regardless of the specific scope, the goal of these programs is to provide strategies and tools for advancing and maintaining good health through behavioral and lifestyle choices. An increasing number of employers offer them as part of their benefits plans—not only to improve employee health but also as a way to reduce healthcare costs for their businesses.
In KFF's 2021 survey, employers were asked what they believed they could do to manage rising expenditures. Beyond adjusting employee deductibles and worker contributions, respondents included wellness programs as potential tools for addressing benefits expenses. And those respondents were right:
A Rand

study

performed for PepsiCo. found that chronic illness management saved $3.78 for every dollar spent

on health benefits.
A

Harvard study

 showed that for every dollar spent on employee wellness, healthcare costs decreased by an average of $3.27.

A

report found

employers saved between $1

and

$3 in

total

healthcare costs for every dollar spent on wellness program

s

.
The results from these three studies all point to a positive return on investment from employee wellness programs. Their double-pronged impact—as a way to reduce healthcare costs while improving employee health—makes them a beneficial part of any employer-sponsored healthcare coverage.
Health
Programs That Meet Employees Where They Are
Given the significance of wellness programs, how can you integrate them into your benefits plan in a meaningful way? Employers increasingly find that onsite clinics offer a convenient way to deliver these initiatives as part of their primary care services.
Health and wellness benefits to where your employees are each day helps them to more easily manage their health while lowering your total cost of care. A 2020 study assessed the utilization and cost of a comprehensive primary care model that incorporated employer-sponsored on-site, near-site, and virtual primary care. The findings showed that employees who sought care within this model had a lower total cost of care per person.
In a 2021 survey of 142 employers with onsite clinics, many respondents saw their clinics as playing an important role in their organizations' health management or wellness strategies. They reported that their worksite clinics offer a convenient way for employees to undergo biometric screenings (86%) and participate in face-to-face lifestyle coaching (66%) or chronic condition coaching (64%). Employers' top objective for their clinics was to provide employees with easy access to quality healthcare. On a scale of one to five, nearly all respondents (98%) rated "patient access" either a four or five in importance.
Onsite care fulfills this objective by removing traditional barriers that make it difficult for employees to seek wellness services, such as:
Time away from work

Inconsistency in service delivery and follow-up

Employee confusion about where to seek preventive care support
Some programs, like Hamilton Health Box's model, address these obstacles by offering 24/7 virtual urgent care, which extends health services to employees regardless of their location.
Keys to Effective
Employee
Engagement
Opening an onsite clinic doesn't guarantee that it will certainly serve as a way to reduce healthcare costs and improve employee health. For clinics and their wellness programs to be effective, employees must know about and engage with their offerings. Successful engagement can be achieved in a number of ways:
1.

Provide

Incentive Programs

.
Offering employees financial incentives can encourage them to use onsite care. The most common incentives include:
Eliminating employees' co-payments.

Reducing the dollar amount of co-payments.

Decreasing employees' premium contributions.

Offering the clinic as a plan option.

Contributing to employees' HSA accounts.

Providing cash or gift cards.
Often, employer health incentive programs are linked to wellness goals that must be reached first, such as obtaining biometric screenings or attending health coach visits. These can also bring employees into the clinic for the first time and help spark relationships with onsite providers.
2.

Emphasize Privacy.
Given the proximity of onsite clinics to their workplaces, some employees may be hesitant to take advantage of services for fear that their health privacy might be violated. Employers should be proactive in emphasizing that each person's medical information is confidential by law, and none of it will be shared with the employer or other employees.
3.

Constantly Communicate.
Once a clinic is live, communication with employees should become an active part of any employer's strategy. Companies like Hamilton Health Box work with the employer's HR team on ways to engage workers so that they take advantage of onsite preventive services available to them. For instance, this might take the form of raffles for employees who have completed their annual physicals or monthly communication campaigns, such as breast cancer awareness, to attract employees to the clinic. Some employees may be slower to try onsite services, so constant communication can proactively remind them of clinic availability and benefits.
One of the most important ways to ensure engagement is to staff the clinic with medical professionals who will appeal to and connect with your specific employee population. Work with your onsite clinical services vendor to ensure your program supplies your workforce with the high-quality, high-touch care that will drive the best outcomes.
Get Support for Employee Wellness

wit

h an Onsite Care

Options
With access to basic care, wellness increases for everyone. If onsite care sounds like an effective way to support healthy and happy employees while managing costs, Hamilton Health Box experts can recommend onsite care approaches to best meet your needs. We provide a unique hybrid approach of in-person and telehealth services and partner with employers to determine the right service mix and onsite availability for your workforce. Find out more about how we can help you build an onsite care plan that's aligned with the needs of your business: Book a 1:1 meeting today!