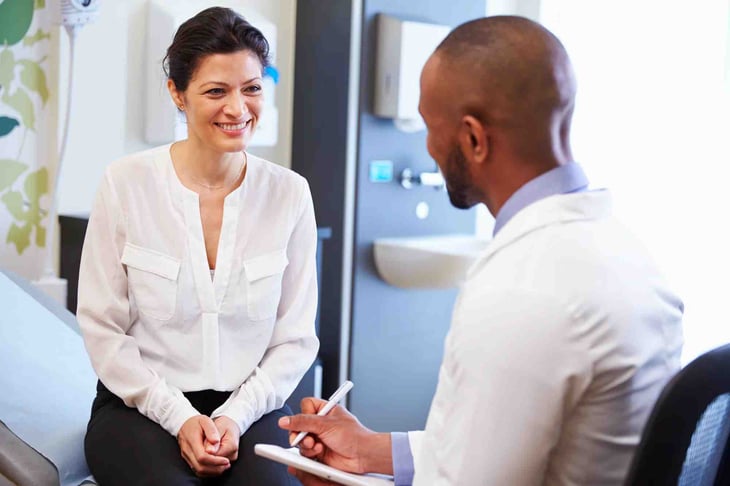 Something is changing at many workplaces: Employees no longer need to take time away from the office to receive a vaccination, squeeze in a physical, or obtain refills of their blood pressure medicine.
Like the nurses' offices found in school settings—only packed with direct primary care and many other services and often after-hours support, "onsite clinics" are cropping up as a way for employers to give their employees easy access to care.
Onsite clinics are often part of larger strategies of employers to contain total costs of healthcare spending, improve employee health and wellness, minimize productivity loss, and increase employee satisfaction with their benefits offerings.
Let's explore more about how onsite care is being used, common ways an onsite clinic can be structured, and considerations for employers implementing an onsite approach at their workplace.
What Is an Onsite Clinic?
The National Association of Worksite Health Centers (NAWHC) defines an onsite clinic as a "setting where an employer or union offers one or more medical and wellness services, delivered by licensed providers, to all or a designated portion of its active population and other eligible individuals." Also referred to "wellness centers," onsite clinics originally began as occupational health centers where workers could be treated for minor injuries that occurred on the job. Today, they can encompass many types of arrangements with a full spectrum of services.
Although onsite care can be incorporated within any type of employer-sponsored coverage, its use can be especially beneficial to employers that self-fund (also known as self-insured) their benefits plans.
Popularity of Onsite Care Paired with Self-Funded Plans
A self-funded plan is exactly what it sounds like: Employers, either administering directly or working with a third-party administrator, assume the financial risk or reward of providing healthcare benefits to their employees and managing the associated costs of care.
The employer sets aside funds to pay for the health care needs of just their own employees.
Self-funded plans may be more flexible than traditional, fully insured plans. They're subject to less regulation and offer businesses the opportunity to customize their health care plan to meet their unique needs. And because companies are paying only for the health care costs of their own employees, there may be money left over at the end of the year that can go toward other business needs. Typically, a self-funded employer will set up a special trust fund to earmark money from corporate and employee contributions to pay incurred claims.
Because employers have financial incentives for employee wellness and health improvement in a self-funded plan, the use of onsite care can help them save on total costs of care and appreciate greater predictability of expense. So, for example, if an employee with diabetes is able to manage their condition and avoid the emergency department, that ultimately saves the employer money since it's cheaper to pay for insulin and primary care than emergency department use, more labs, and additional time out of office for managing medical appointments and sick days. The likelihood of sudden high-cost spikes in utilization, such as from hospitalization, will decrease, providing greater predictability of expense over time. As for employees, removing barriers to healthcare access will help them benefit from better health, fewer copays, lower coinsurance, and less time out of the office.
Routine primary and preventive care not only helps people stay healthy, but it can also identify or mitigate many conditions before they become more severe. According to the Centers for Disease Control and Prevention, more than 100,000 lives could be saved annually if people received screenings, such as those that identify chronic diseases. Preventive care can also have a profound financial impact on the healthcare costs that occur under employer-sponsored coverage. Primary clinical preventive services have an estimated net savings of $7 billion.
100,000+ lives
could be saved annually if people received screenings.
How Does an Onsite Clinic Impact Use of Healthcare Services?
Despite the critical impact of preventive services, many Americans fail to use them. A 2021 survey found that although 91 percent of respondents believed that primary care is important, almost a quarter (24 percent) had not received any such care in the previous year.
There are many reasons people fail to seek preventive services. A common hurdle is not having a dedicated healthcare provider. Another challenge is the difficulty involved in taking time away from work and traveling to a physician's office. (Ironically, when employees fail to use primary and chronic care services, they often end up needing to miss more work for health conditions that could have been prevented or treated before developing into more complex conditions).
Delayed care is damaging to an employee's health and can also become extremely costly for companies. Fortunately, both of these issues can be addressed by making consistent primary care use more accessible.
An onsite clinic offers several important benefits for employers and their employees. According to NAWHC, these include:
Convenient Access.

Because of the proximity of onsite clinics, employees are more likely to seek preventive screenings, immunizations, and services that they might not otherwise receive. Reduced time away from work to travel to physicians' offices for

direct primary care

also minimizes absenteeism and productivity loss.

Reduced Costs.

As a result of using primary care services, employees will reduce the use of emergency room or urgent care visits, which are extremely expensive. As discussed earlier, managing chronic conditions before they become acute or are more complex lowers total costs of care.

Improved Retention

.

Onsite clinics are an investment that businesses make to ensure the well-being of their employees, which can go a long way to attracting and retaining high-quality talent. Furthermore, the services offered by onsite clinics are tailored to the specific needs of the employee population, rather than a one-size-fits-all approach to health care. Such individualized care can be viewed as a meaningful benefit to new or current hires.
The potential downsides to an onsite clinic must be weighed against these benefits, of course. The Society for Human Resources Management notes a couple of drawbacks historically include the following:
Administrative Commitment.

Not all clinics operate the same way. For smaller organizations, the cost and administrative burden of running an

onsite clinic

may be too overwhelming.

Staffing

.

Larger employers have the resources to staff their own onsite health centers in ways smaller clinics can't.

Employee Engagement. The best onsite clinic will not deliver results if the clinic operator doesn't drive engagement programs.
One way even some very large employers are addressing these challenges is by partnering with their health plans or a third party to staff and build centers, whether on- or near-site. For example, Hamilton Health Box can provide turnkey options for onsite clinic setup, from site builds to customized service offerings to staffing to data-led analysis for improving onsite clinic operations and engagement over time.
These days, employers can find a variety of models and business arrangements to optimize onsite clinic use and ROI.
What Models of Care Does an Onsite Clinic Provide?
Service breadth and delivery mechanisms can vary. The best approach to onsite care will depend on the employer's goals and employee needs.
Some worksite medical arrangements are mostly to provide occupational health and first aid. In other instances, onsite clinics not only support primary care and preventive services, but also urgent care, mental health services, lab testing, and imaging. The greater the spectrum of services offered, the more benefit to the employer in improving access, steering employee use, and managing total costs of care over time.
What Is a Hybrid Approach to Providing Onsite Care?
How employees receive services also will depend on the arrangement. When organizations lack the space for traditional primary care models within an onsite office, some look for locations close to their offices to create a "near-site" clinic. This could be a nearby empty storefront or a shared clinic with another business, for example. Other options are mobile clinics adjacent to buildings or even clinic vehicles that visit satellite offices.
Employers also may pursue a hybrid approach of onsite and telehealth services to maximize care availability. Telehealth provides opportunities for employees to receive diagnoses, treatments, and prescriptions for routine medical conditions via online meetings with healthcare professionals and can be extremely valuable for providing care access around the clock.
Blending the personalization of onsite clinics with the convenience of telehealth gives employers opportunities to increase the amount and type of care available to employees. This is the approach at Hamilton Health Box (HHB), which offers onsite care solutions that include a unique hybrid model that integrates in-person care with telemedicine to provide primary care, chronic condition management, urgent care, and mental health services.
HHB's model provides a complete care experience that uses highly trained nurses, EMTs, physician assistants, and MDs to provide all the services offered in a doctor's office, such as in-clinic blood draws, annual wellness exams, vaccinations, standard X-rays, and more. At the same time, employees have access to virtual urgent care 24/7/365 via telemedicine, which means they will have more access to clinicians and less need for costly emergency services.
Learn More About Success Strategies for Onsite Care
HHB's low-overhead model brings onsite care that enhances human connection and care experience. Learn how HHB can structure and staff onsite offerings to meet the needs of your employee population by talking with a representative today.